Online Banking Versus Mobile Banking Apps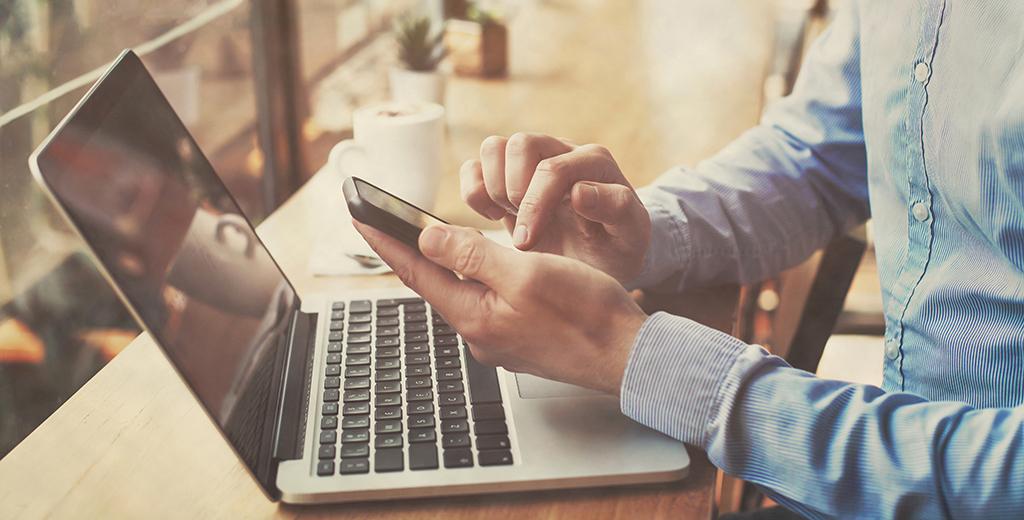 Online banking and mobile banking apps have both revolutionized the way that we handle our finances, but what's the difference between the two?
The digital era has transformed banking a great deal, particularly how services are conducted. While it used to be that customers had to visit a brick-and-mortar branch to deposit a check or open an account, practically all of our needs can now be handled from the comfort of home or the palm of our hands.
Online (often called "internet") banking and mobile banking apps both provide a digital alternative to visiting a traditional branch and have grown immensely in popularity. In fact, 80% of Americans prefer banking digitally over visiting a physical location [1]. While online banking and mobile apps are both two sides of the same coin, what exactly are the details of these services and how do they stand apart?
The Functionality of Online Banking Versus Mobile Apps
Perhaps the largest difference between the two comes down to general functionality. With online banking, customers use a web browser to access their bank's online portal. This is typically done via laptop or desktop computer, but can also be done with a tablet or mobile device. With mobile apps, however, users handle their banking needs on a smartphone or tablet. In the event that a mobile banking app is temporarily out of service, users can typically log in to online banking.
Mobile Banking Apps Lend to Ease of Access
Mobile banking apps grant users the freedom to access their accounts virtually anywhere. This is particularly convenient for those who need to quickly make a deposit or transfer funds on-the-go.
Mobile app users have more flexibility in terms of where and how they can access their accounts. With a fast, simple tap of the app icon, they are viewing and using their accounts quickly. While online banking also allows users to access their bank account from a convenient location instead of visiting a branch, they still need to use an internet browser. This is often more time-consuming than an app because users need to open the web browser on their device, then navigate to their bank's website, where they can then step through the log-in process.
Push Notifications Are a Mobile Banking Perk
Similar to many of the other apps on your smartphone, most mobile banking apps send push notifications to their users. Push notifications provide alerts related to your account such as balance threshold alerts, notifications to confirm online transactions, even security alerts. Through push notifications, mobile app users can feel more on top of their account on the go.
Online Banking Provides A Larger Scope of Utilities
Depending on the respective bank, mobile banking apps are generally more limited in the range of services that are offered. Mobile apps typically include the ability to make mobile deposits, transfer funds, make basic utility payments, and view account balances and transaction histories. Online banking provides nearly every service one would expect from a traditional bank. Users can set up online payments and direct deposit services, download and print statements, and experience more customizable security options.
Online and Mobile Banking Matters to Pinnacle Bank
At Pinnacle Bank, we recognize that our customers may not always have the time to visit our branches or have the ease of access. We also understand that customers may simply prefer a more digital approach to banking. That's why we provide the tools and services to help these customers handle their banking needs in a way that suits them.
Online banking is offered to every Pinnacle Bank customer. That means you can access your account via our online portal and experience nearly every service you'd find in the branch. This includes transactional services, and much more.
Mobile banking is also made available to those that prefer to handle their banking needs on the go. Just download our free app to make deposits, transfer funds, and other convenient services.
There Are More Digital Services to Experience With Pinnacle Bank
PinnPay is another service that's available online and through our mobile app. This allows you to pay your bills online and schedule recurring bill payments for your most frequently used utilities. It's convenient, it's flexible, and it's secure with every payment.
Whether it's saving you a trip to the ATM or taking out the guesswork of divvying up the lunch tab, Zelle® is a fast, safe and easy way to send and request money. Funds are sent directly to the recipient's account in a matter of minutes, and all you need is the recipient's email address or U.S. mobile phone number.
Regardless of what device you prefer to handle your banking with, be it a tablet or a desktop computer, Pinnacle Bank will ensure you can access your accounts online. Our convenient online banking and mobile app comes with the resources, tools, and guidance necessary for you to handle your banking needs.
[1] Consumer Affairs https://www.consumeraffairs.com/news/online-banking-has-become-more-widespread-among-consumers-survey-finds-103119.html